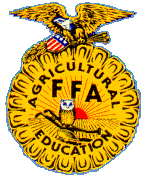 STATE FFA Degree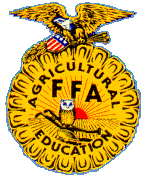 Requirements
The State FFA Degree is granted by your state association. As with previous degrees, there are minimum requirements to meet. Some states leimit the number of degrees presented annually to nly a small percentage of the membership. Because of this restriction, you should work hard to not only meet, but to exceed the minimum requirements. They are:
*Chapter FFA Degree
*Two years of agricultural course work and 24 months of active FFA membership
*SAE earnings and investments of at least $1,000 or at least 300 unpaid hours outside of class time.
*Demonstrated leadership ability
*Participation in chaptger Program of Activities
*Participation in at least five FFA actgivities above chapter level
*Satisfactory scholastic record
*Other requirements, if any, prescribed at the local or state level
Award
Members who reach this rung on teh degree ladder are presented with a gold emblem charm during a ceremony at the stqate FFA convention. The State FFA Degree charm replaces the Silver Chapter FFA Degree pin on your jacket. It should be worn either above your name or on a stgandard key chain. This degree puts you in the elite group of your state's highest achievers.
Recipients:
1996
Ryan Higginbotham
Jason Evers
Kevin Evers
Amy Malone
1997
Adrian Higginbotham
Lacey Malone
Crystal Pinar
1998
Jason Emerson
Mark Sanderlin
Ted McLean
1999
Kenneth Evans
2000
Jackie Evans
Sharla Higginbotham
Breanne Rugo
Lynden Weimerskirch
2001
Blinn Carstensen
Ty Jess
Lora Hahn
Ruth McLean
FFA
SAE/LAB
CLASSROOM
MAIN
PAGE
ACH HIGHSCHOOL